When I start a new thing and get used to it a little, I get sick and fail.
I think everyone has such an experience once.
It is said that driving a car or bicycle, but it is the same even if you are stationed overseas.
When I get used to it, I get on with it, make mistakes, and grow up.
That's what expatriate life is like.
This time, I will share a little failure story when two months have passed since I was assigned.
Business trip in Indonesia
I went on a business trip to Indonesia with confidence and became accustomed to using English and Apps.
Overseas business trips were no longer a pain.
I made several business talks with Indonesian customers and took Indonesian subordinate with me.
I could easily move from the airport to the hotel just by following my subordinate.
I could do the whole process with my subordinate, but at that time I was planning another schedule by myself.
Perhaps I was trying to show a cool face 😅
The next day, I took another action and went out of control to visit the customer alone.
It was like a child who appealed that he was no longer a child 😌 
Transportation in Jakarta
The transportation in Jakarta is by car.
I heard that there is only one reliable taxi company called Blue Bird in Indonesia, so I installed the app immediately.
https://apps.apple.com/id/app/mybluebird-taxi/id476533261
MyBlueBird made a reservation the day before.
All you have to do is wait for the pick-up the next morning.
I fell asleep with excitement that day.
If you think it's easy, there's a pitfall …
Trouble occurs on the day of departure!
Before leaving, I checked the screen of the app, but there is no sign that the car is approaching.
In the first place, I couldn't even make a reservation on the app.
I was impatient and tried to dispatch the car again.
Even so, the completion screen did not appear, so I did the same work three more times.
The results were all the same.
The moment I got down to the lobby trying to get ready and ask the hotel to dispatch me, a problem occurred.
The clerk at the front desk said.
"Mr. fs, 5 taxis are coming!"
When I went outside, there were 5 light blue taxis lined up😱
All the drivers wearing Hawaiian shirts were looking for me with a bloody eye, "Where is fs?"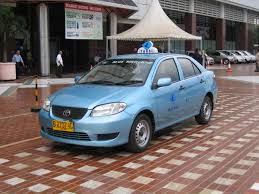 Can't cancel?
I tried to cancel in a hurry, but the cancel screen does not appear on the app.
When I consulted with the person at the front desk of the hotel and called Blue Bird, he said that he would only accept cancellations from the app.
When I was at a loss, the front clerk said.
"Fs, please get on for the time being."
Eh! ?? I thought 😵, but I went to the taxi as I was told.
I was worried that all the drivers would charge me a cancellation fee, and when I left, I was pulled by the scary-faced driver at the front and boarded.
The remaining drivers were complaining in Indonesian, but they started off regardless.
The driver who took me was a nice person.
I was told that it would be okay if I canceled it properly in the app, so I turned on roaming on the mobile phone and tried again.
Then, the reservation confirmation screen appeared, and I was able to cancel the other 4 cars safely.
The cause was the hotel Wi-Fi.
It seems that the radio wave was unstable and an error occurred.
I think that such troubles could be prevented by having global Wi-Fi.
The driver waited for me during the interview with the customer.
After the negotiation was over, he took me to the meeting place with my subordinates.
There is no additional charge.
Despite the app errors, I realized that Brue Bird was a reliable taxi company.
By the way, I was roaming, so I got angry at the accounting after I got back😅
Summary How was it as careful as when to it?
Since I had this experience myself, I was able to cultivate an unwavering mentality, but I think that if I acted carefully, I could prevent unnecessary troubles.
Especially when you get used to it a little, you may experience unexpected situations if you feel too sick.
Be careful as it can be dangerous overseas.
If you gain experience slowly, you will acquire the knowledge to act safely by yourself. If you are a fledgling expatriate, we recommend that you don't put it in parentheses and use the help of those around you.